MALICOUNDA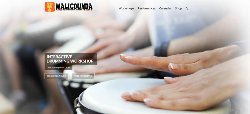 What

MALICOUNDA

When

9/29/2022
The Centre will host MALICOUNDA for 2 weeks; the week of September 26 and October 3. The deadline for registration is Friday, September 16.

The workshops are offered in French and bilingually, therefore; this event targets all programs; Core French, Immersion and Francophone as well as all levels from K-12.



WORKSHOPS FOR ELEMENTARY STUDENTS
Children in grades K-6 love to move and learn through engagement of the whole self. Our elementary workshops are focused on fun and games, exploring their own self-expression as well as learning to appreciate other cultures and ways of being.

Our goal is to let the children discover and experience West African culture through dance, drumming, singing and language! Children will have an opportunity to express themselves using these beautiful and engaging ancient art forms.

Every flourishing civilization provides for its children artistic expression and the ability to understand its meaning. During our West African drum workshops, the children will feel the strength and beauty that exists within each of them through engaging with the power of traditional dance and drum.




DRUM WORKSHOPS FOR SECONDARY STUDENTS
What could be more universal than music to inspire and lead a student activity?
Students in high school are preparing to enter the adult world. Our secondary workshops provide a greater focus on team-building and communication skills as well as leadership training for all student participants. Students will develop connections, empathy and a sense of purpose and inner strength.
A multicultural approach is also part of Malicoundal's goal in letting the students discover and experience West African cultures through rhythm, movement, theater, and drumming. Students will have an opportunity to express themselves using these beautiful and engaging ancient art forms while being exposed to other cultures. Experiencing the wisdom and power of traditional drum and dance cultures will help them understand the differences and similarities that we all have as people.
This interactive workshop is built on a foundation of traditional rhythms, improvisation, traditional dance and games activities.
Drum circle allow students to recognize new potential through discovering their own natural talent that is inherent in everybody.
Through creating and performing their own rhythms, and responding to drumming, middle and high school students can continue to develop skills and knowledge that enhance the important development of self-image and social relationships. Cooperation and collaboration are emphasized with this age group, fostering positive interactions with others and enhanced self-esteem.
The workshop ends with improvised activities that stimulate creativity: an established rhythm is the lead wire for the students to express themselves through movement and experience this beautiful and ancient art form.
Fun and enjoyment guaranteed!




The costs are as follows:
For a full day (7 workshops maximum) at your school, the cost is $1300.
For a half-day (4 workshops maximum) at your school, the cost is $800.
For one workshop the cost is $400.
30 students maximum per workshop.



For this event, the Centre will pay the fees and send an invoice for half of the cost to your school.
Copy to Google Calendar
•
Download iCal Event